Land on Mars With NASA in 2021! Plus, More Online Education Events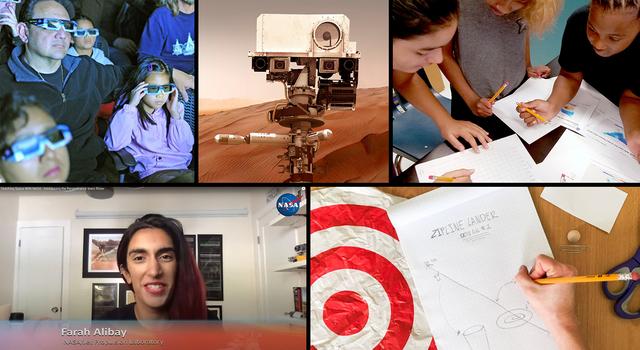 Join the Mission to Mars Student Challenge

NASA is inviting classrooms, educational organizations, and households to take part in a worldwide "teachable moment" as the Perseverance rover makes a historic landing on Mars this February!

Register for the Mission to Mars Student Challenge to lead students in designing and building a mission to the Red Planet with a guided education plan and resources from NASA, join in live stream Q&As with experts, and share student work with a worldwide audience. The challenge culminates on February 18, when students can land their missions along with the Perseverance Mars rover!

Register Today!


Registration via Eventbrite. If prompted, enter access code: mars

Challenge participants will receive:
A guided 5-week education plan for elementary, middle, and high school students with standards-aligned STEM lessons and activities from NASA. Plans are flexible with your schedule and can be completed in whole or in part or in any sequence.
A weekly newsletter with links to tips and resources related to the mission phase of the week.

Video conversations

with mission scientists and engineers highlighting how their work relates to what students are learning – plus, ideas to kick-start the weekly challenge.
Opportunities to participate in

Q&As with mission experts

and submit student questions and work that could be featured during NASA broadcasts leading up to and on landing day.
› Watch the mission trailer and explore related resources
More coming soon when the challenge officially kicks off on January 8!
More Upcoming Events for Educators and Students
Wednesday, Jan. 13, 9-9:30 a.m. PST (12-12:30 p.m. EST)
Webinar: Learning Space With NASA Live Stream – Studying Climate Change
Audience: K-8 Classrooms and Students
Location: Online - Learning Space With NASA at Home
Overview: In this half-hour live stream for K-8 students, we'll talk about how NASA studies climate change from space and how it relates to what students are learning now. Plus, we'll answer your questions during a live Q&A! Note: You do not need to register to attend.
› Register your students or classroom on Eventbrite to join the live Q&A
› Explore home-learning resources

Wednesday, Jan. 13, 3-4 p.m. PST (6-7 p.m. EST)
Webinar: Teaching Space With NASA – Monitoring Earth From Space
Audience: Formal and informal educators, all audiences welcome
Location: Online - Teaching Space With NASA
Overview: In this one-hour educational live stream, NASA experts will discuss how we build spacecraft to study climate change, then answer your questions. Note: You do not need to register to attend.
› Register on Eventbrite to join live Q&A
Explore resources related to this workshop on Teaching Space With NASA

Saturday, Jan. 23, 10-11:30 a.m. PST (1-2:30 p.m. EST)
Workshop: Teaching Oceanography and Earth Science
Audience: U.S. teachers for grades K-12
Location: Online - Webex link will be provided to registered participants
Overview: In this interactive virtual workshop for teachers, we will look at the union of engineering and Earth and climate science to better understand how NASA scientists track our planet's health. Participation is limited and available on a first-come, first-served basis. Registration is required.
› Register to attend
› Explore education resources
In Case You Missed It