Hurricane Ida looks absolutely massive in these astronaut photos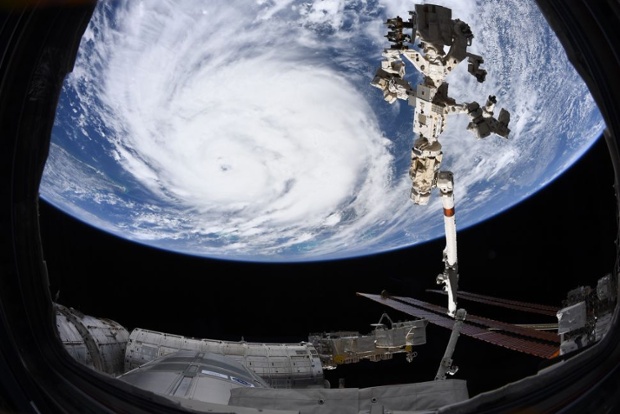 (NASA)
Hurricane Ida
has strengthened into a powerful Category 4 storm as it approaches the coast of Louisiana on Sunday (Aug. 29), with astronauts keeping close watch on the tempest from space.
Full Story:
Space
(8/29)
The third try wasn't the charm for
Astra
. The California Bay Area startup attempted its third orbital test flight on Saturday (Aug. 28), sending its two-stage Launch Vehicle 0006 skyward from the Pacific Spaceport Complex on Alaska's Kodiak Island at 6:35 p.m. EDT (2235 GMT). The
rocket
suffered an anomaly about 2.5 minutes after liftoff, however, and the flight was terminated.
Full Story:
Space
(8/28)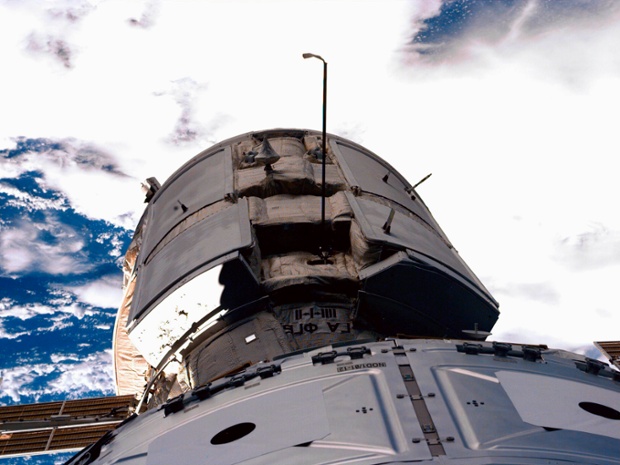 (NASA)
Small cracks have been discovered in the
International Space Station's
Zarya module, according to a new report. "Superficial fissures have been found in some places on the Zarya module," Vladimir Solovyov, chief engineer of Moscow-based company Energia, the prime contractor for Russia's human spaceflight program, told Russia's state-owned RIA news agency,
Reuters reported today
(Aug. 30). "This is bad and suggests that the fissures will begin to spread over time."
Full Story:
Space
(8/30)
NASA's Michoud Assembly Facility in New Orleans and the agency's
Stennis Space Center
in nearby Hancock County, Mississippi, both faced a wallop from
Hurricane Ida
as the massive storm made landfall on Sunday (Aug. 29).
Full Story:
Space
(8/30)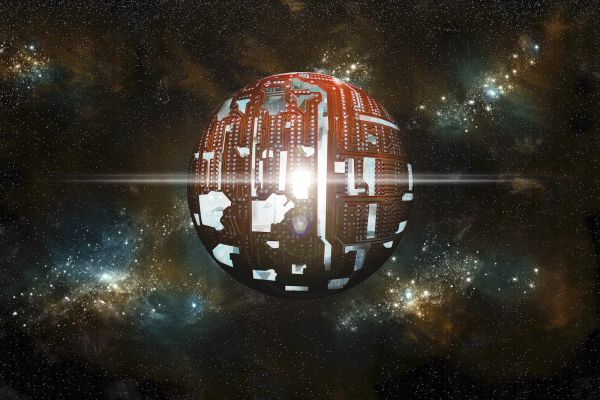 (Marc Ward/Stocktrek Images/Getty)
Technologically-savvy aliens could be powering their society using a hypothetical megastructure called a Dyson sphere to harvest energy from a
black hole
. And the sphere might radiate in peculiar ways, allowing telescopes on Earth to discover the existence of intelligent beings elsewhere in the universe, a new study suggests.
Full Story:
Space
(8/30)
An enormous number of rogue supermassive
black holes
may be wandering around the universe, new simulations find. In fact, wandering giant black holes may account for a whopping 10% of the nearby universe's black hole mass "'budget,'" the research finds. This means that
galaxies
like our own could have an average of 12 invisible behemoths prowling around their outskirts, gobbling up anything that gets in their way.
Full Story:
Space
(8/28)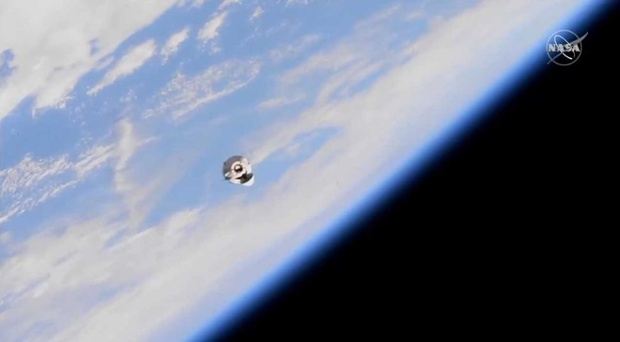 (NASA TV)
SpaceX's latest
Dragon
cargo ship arrived at the
International Space Station
(ISS) today (Aug. 30) to deliver an experimental robotic arm and a wealth of other research equipment and supplies just in time for one astronaut's birthday.
Full Story:
Space
(8/30)
SpaceX's
Starship
program, which boasts the world's tallest and most powerful rocket, will eventually put people and cargo on Mars. The latest prototype, SN20, is waiting for the chance to go into orbit. Several other prototypes have made flights, ground tests and sometimes even testing mistakes in the effort to improve future flights. Here's an overview of key milestones on Starship's road to the Red Planet.
Full Story:
Space
(8/29)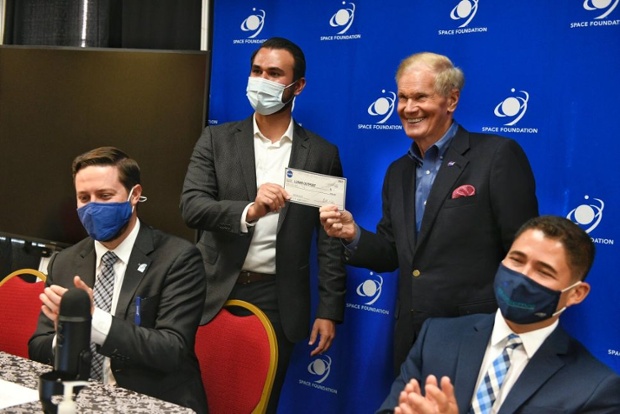 (Space Foundation)
NASA has cut a 10 cent check to space startup Lunar Outpost in the first-ever payment to a company to mine the
moon
. NASA Administrator Bill Nelson presented Justin Cyrus, CEO of Colorado-based space startup Lunar Outpost, with the first payment ever issued to a company as part of a space resource contract announced Aug. 23 here at the 36th annual Space Symposium. The check, which was just 10 cents, or 10 percent of Lunar Outpost's $1 bid, and will go towards the company's efforts to
collect lunar dust
, or regolith, for the agency.
Full Story:
Space
(8/30)
Images from satellites
operated by Maxar Technologies shows scenes of the Hamid Karzai International Airport from Friday (Aug. 27) as the U.S. nears an Aug. 31 deadline to complete its evacuation efforts. The were taken
one day after a deadly suicide bombing
killed as many as 170 civilians and 13 members of the U.S. military at the airport's Abbey Gate.
Full Story:
Space
(8/29)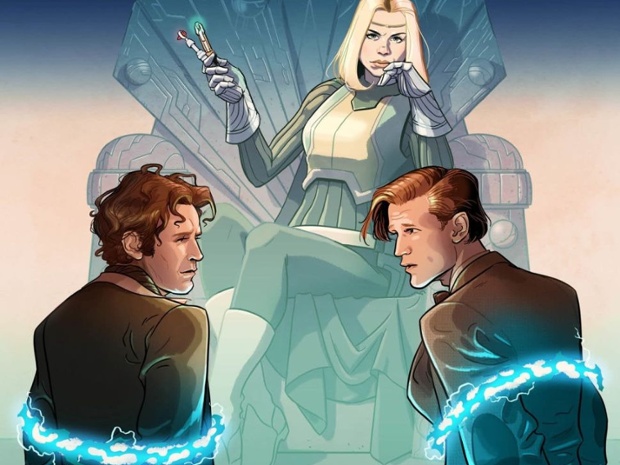 (Titan Comics)
With actress
Jodie Whittaker
and showrunner Chris Chibnall set to depart the BBC's "
Doctor Who
" TARDIS starting in 2022, despairing fans can look forward to another Timelord reunion this fall courtesy of London-based
Titan Comics
starring the Eighth and Eleventh Doctors.
Full Story:
Space
(8/30)
| | |
| --- | --- |
| | © Future US, Inc. 555 11th ST NW, Suite 600, Washington, DC 20004 |